Veranda Partners with IIM Raipur & SHRM To Launch Online EPGP HR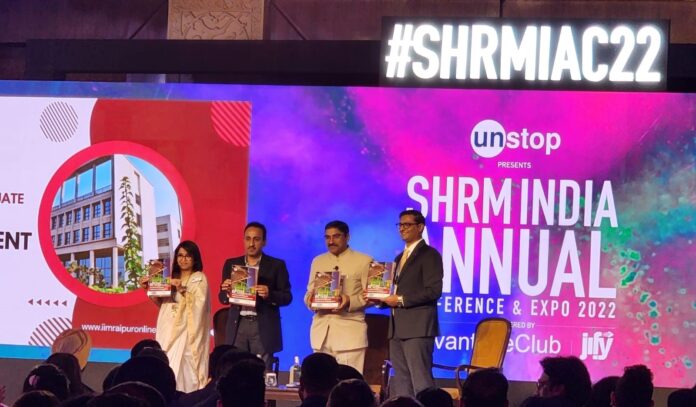 Bangalore, November 24 2022: IIM Raipur is collaborating with Veranda Learning Solutions Limited ("Veranda"), a public listed Education company (BSE: 543514, NSE: VERANDA), represented by its brand Edureka, and the Society for Human Resource Management (SHRM) to launch an Executive Post Graduate Programme (online MBA) in HR Management. The two-year master's degree programme will be offered in a blended mode via a combination of live synchronous sessions delivered on devices and face-to-face classes organized at the campus. 
The Programme is exclusively designed for working professionals who are already part of Human Resources or desiring to make a career transition to HR roles. The objective of the programme is to impart comprehensive and contemporary education on people strategies and HR competencies to practitioners, aspiring HR professionals, and entrepreneurs who are seeking to develop and demonstrate capabilities relevant to the present-day demands of the businesses. 
The Programme is uniquely designed with structured academic curriculum to be taught by the Experienced IIM Faculty. SHRM will work with Veranda to structure Masterclasses with CHRO & Senior HR Practitioners based on the Global Competency Framework of SHRM. To top that, professionals going through this course will also get Personalised career coaching & mentoring and support for career transitions to ensure strong outcomes.
Speaking on the association Prof Ram Kumar Kakani – Director IIM Raipur said, "We at IIM Raipur have created a niche with our Industry partnerships. This course is another step in that direction. We are looking forward to an excellent learning experience for our learners in partnership with SHRM & Veranda."
Achal Khanna, CEO SHRM India, APAC & MENA commented, "SHRM is committed to elevate the HR profession. We feel this course is aptly designed to meet the needs of new age HR professionals & equip them with the knowledge to be successful." 
Speaking on the association, Aditya Malik, Head – Higher Ed, Veranda Learning Solutions said, "We are happy to partner with IIM Raipur & SHRM to launch this one of its kind online MBA for HR professionals. We are confident this unique programme will go a long way in developing HR talent for this fast-changing business environment." 
Also Read: Yas Island Celebrates Football Spectacle in Epic Video
About Veranda Learning Solutions
Founded in 2018, by the Kalpathi AGS Group – Veranda Learning Solutions is a public listed edtech company that offers a bouquet of training programmes for competitive exam preparation, including State Public Service Commission, Banking, Insurance, Railways, IAS, and CA, as well as a slew of professional skilling and upskilling programmes in Management & trending technologies. Veranda Learning Solutions aims at offering a robust learning platform riding on a network of strong mentors, educationists, and tech-experts. 
Veranda Learning Solutions' platform combines technology, processes, and methodologies to provide high-quality, in-depth, personalised learning opportunities and content to learners across the country. Dedicated to creating an impact on students and delivering successful academic outcomes, Veranda adopts a multi-modal delivery system backed by a rigorous and disciplined learning framework. The company provides services through four subsidiaries: Veranda Race, Veranda CA, Veranda IAS, and Edureka – the customer facing brand of Brain4ce Education Solutions.
About IIM Raipur 
The Indian Institute of Management (IIM) brand has now become synonymous with innovation, talent, and zeal for success and contribution to management. The Government of India set up IIM Raipur in 2010 to meet the growing demand for top-quality professionals. Located at 200 acre state of the art campus at Atal Nagar, Naya Raipur, the Institute offers a world-class education in major areas of management and provides an ambiance for genuine intellectual pursuit, excitement, and professional growth. Right from its inception, the Institute focuses on contributing to the growth and development of the Nation, region, and society at large. As such it gives importance to courses and managerial training that are moulded in a way true to the culture and unique requirements of the state and organizations here.
About SHRM
The Society for Human Resource Management is the world's largest professional human resources membership association. As the voice of all things work, workers and the workplace, SHRM is the foremost expert, convener, and thought leader on issues impacting today's evolving workplaces.
Headquartered in Virginia, United States, SHRM has solidified its presence across India, APAC and MENA. With 312,000+ members in 165 countries, SHRM impacts the lives of more than 115 million workers and families globally.
Visit EasyShiksha for skill development