SGT University organises 'Radha Krishna Sang Phoolon Ki Holi'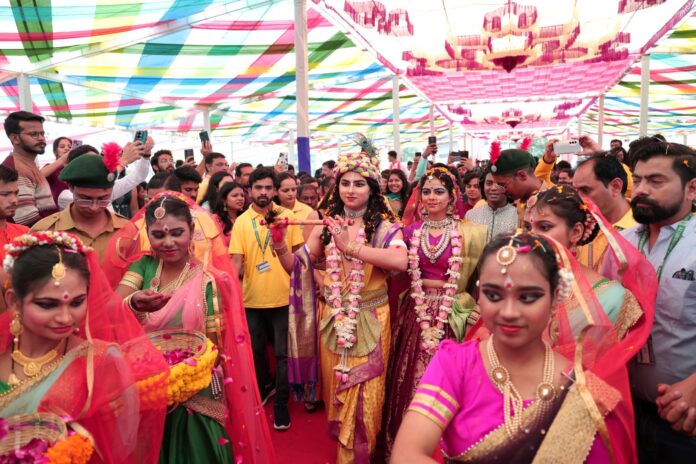 Gurugram: Giving the message to save water for environmental protection, SGT University at Gurugram organised "Radha Krishna Sang Phoolon Ki Holi ' on Saturday. A gala of cultural events depicting the diverse culture of India was presented on this occasion. The cultural melange had dance performances in Gujarati, Haryanvi, Mizoram, Rajasthani, South Indian, and Brij and a shower of flowers in place of traditional colours for the Holi.
 The cultural fiesta reflected the true spirit of the festival spreading joy, happiness, and enthusiasm. The festivities were cantered on Environmental conservation theme with the redolence of marigolds replacing colors and water.
Chancellor of the University, Padmashri Shri Ram Bahadur Rai, Sh. Najeeb Jung, former Lieutenant Governor of Delhi, and Chairperson of the Dashmesh Educational Charitable Trust, Smt. Madhupreet Kaur Chawla, Managing Trustee, Shri Manmohan Singh Chawla, senior officials of the university, and other dignitaries were present at the event.
The cultural event began with a welcome dance performance by "Brajesh Basantam Navneet Chauram'. Everyone was mesmerized by the Gujarati dance performance of the song 'Holi Aai Re."
A captivating Rajasthani folk dance performance on 'Holia Mein Ude Re Gulal' enthused the audience and each and everyone present at the event started dancing. The comedy act 'Sabse Bada Moorkh," based on humor, drew huge applause from the people at the event.
The major attractions of the event were bamboo, or Chadau, dance from Mizoram, South Indian dance from Telangana, and Holi dance from Brij. The students mesmerized the audience with their dance performance on the love stories of Radha and Krishna.
Dancing to traditional, classical, and Bollywood-based Holi songs created the ambiance of Holi. When students of SGT University started dancing to the songs 'Meethe Ras Se Bhari Radha Rani Lage', 'Ab Radhe Rani De Daro Bansi Mori', and 'Khelo Melo Holi Khelo', it felt as if the SGT campus had turned into Mathura-Vrindavan.
Also Read: World Sustainable Energy Days Celebration at EuroKids Munnekolala, Bangalore
It was ecstatic to watch students dressed as Radha and Krishna, and all the people present at the event seemed to be completely immersed in the colors of Holi.
The entire program was organized under the direction of Chairperson Smt. Madhupreet Kaur Chawla and the support and motivation from Managing Trustee Shri Manmohan Singh Chawla. The pro-vice chancellor, registrar, office bearers, and other dignitaries of the university were present at the event. Students, teachers, and staff participated in the Holi Milan ceremony. The fervor of the event fostered a stronger and healthier bond of brotherhood.
This year Educate yourself and develop your career with EasyShiksha