Billabong High International School Lighthouse Learning Launches first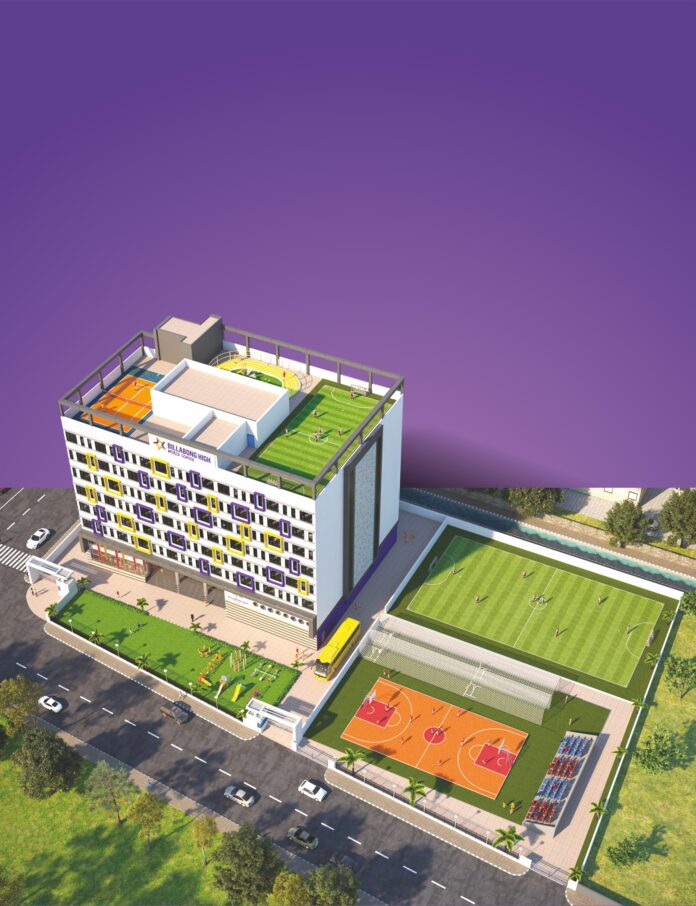 Mumbai; 25th Nov 2022: In a huge leap towards building a community of learners who are driven by 'passion and purpose', Lighthouse Learning (formerly EuroKids International) has announced its first Billabong High World School – The School for Innovation in Mulund, Mumbai.
The schooling ecosystem at Billabong High World School is designed to build an 'innovator mindset' in learners. All initiatives, programs and also infrastructure have been designed to empower learners with the skills and resources to connect the dots, to ideate, innovate and implement.
The school will offer the Cambridge Curriculum (CAIE) from Playgroup up to Grade 10 and has a unique learning framework – Innoverse. Billabong High International School The Innoverse Learning Framework comprises contemporary teaching-learning techniques such as Socratic Dialogue, Inquiry Based Learning, Collaborative Learning, Field-Based Learning and Case Study Methods. The techniques will be delivered using age-appropriate learning plans.
In addition, the school pedagogy integrated programs will focus to facilitate the innovators mindset – a dedicated Critical Thinking Program, the Maker Program, a contemporary Visual and Performing Arts Program, a dedicated Outdoor Adventure Sports Program and Outbound Education Program. Billabong High International School In a bit to build global citizens, ready for the world – there will be a dedicated Career Guidance Program with top university tie-ups and profile building and a Community Service and Outreach Program.
Located in Mulund, Billabong High World School campus will boast innovation-inspiring learning spaces such as Collaboration zones, Creative Zones including Maker Labs, Visual and Performing Art Arenas, a Pottery and sculpting studio, a 600-seater multipurpose auditorium, technology-enabled classrooms, fully equipped labs and libraries. The Sports amenities include fencing, archery, shooting, in addition to basketball, cricket and football.
Commenting on the launch of Billabong High World School, Rahul Deshpande, CEO, K12 Schools, Lighthouse Learning, said, "It is a proud moment for us to launch our first Billabong High World School in India in Mulund, Mumbai. We are reimagining learning and have built this school on the foundation of 'innovation'. As leaders in K12 education, we realize that the road to success in the new world will be paved by those who will nurture a passion for constantly finding creative solutions to challenges.  The new generation will need to transcend the boundaries of technology and embrace innovation. Kudos to our team of curriculum and instructional designers, who have put in over 1,000 man-hours of research to put together the Innoverse Learning Framework. Learners will benefit immensely from the pedagogy, curriculum and contemporary programs that will work in unison to build in them, the 'mindset of an innovator', early on. We are looking forward to offering to parents and children a world-class schooling environment, powered by innovation."
Also Read: Sayaji Indore embarks hospitality in the City of Lakes – Udaipur 
About Lighthouse Learning:
Billabong High World School is part of Lighthouse Learning, one of India's leading Early Childhood & K-12 Education groups. Our group is committed to building a robust foundation & new-age skills in future generations with student-centered goals that align its network of over 1,200 Pre-Schools and 44 Schools. Lighthouse Learning Group delivers the joy of learning to over 150,000 children every day and employs a talented workforce of over 10,000 people across its office and campuses. 
Visit EasyShiksha for skill development